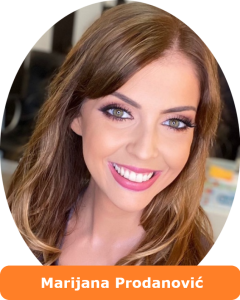 Marijana Prodanović obtained her PhD (2015) degree (English Language and Linguistics) at the Faculty of Philology, Belgrade University. The very same year, she became an assistant professor – and climbed to an associate one in 2020.
Prodanović has been teaching English at university level since 2012 (ESP, EAP, ELT, Pragmatics, Communication). She currently occupies the position of the Dean of the Faculty of Philology, Sinergija University.
Her fields of interest include but are not limited to: (Sub-) Branches of Micro-linguistics, as well as Intercultural Pragmatics, and emerging issues in ELT – she has addressed them in a number of scientific papers and four coursebooks.
Prodanović has actively participated in international projects and pursuits (Providing Technical Assistance to the Republic of Serbia in the Process of Corporate Financial Reporting Reform, Level-Up – supporting visually impaired individuals in language learning, ERASMUS + staff exchange, etc.) and (co-) organised ≥50 conferences, round tables, workshops – focused on current issues and trends in ELT/ESP/EAP, as well as language schools, aimed at encouraging multilingualism in the country (region). It is also a worthy note that she is a member of the Foreign Languages and Literature Association of Serbia Board (2016-on), as well as co-editor-in-chief of SingiLogos journal.
---
KEY SPEAKERS MILENA ŠKOBO MARINA TZAKOSTA EVELINA PETKEVIČIENĖ PAULIUS VAITIEKUS MINDAUGAS SAMUOLAITIS