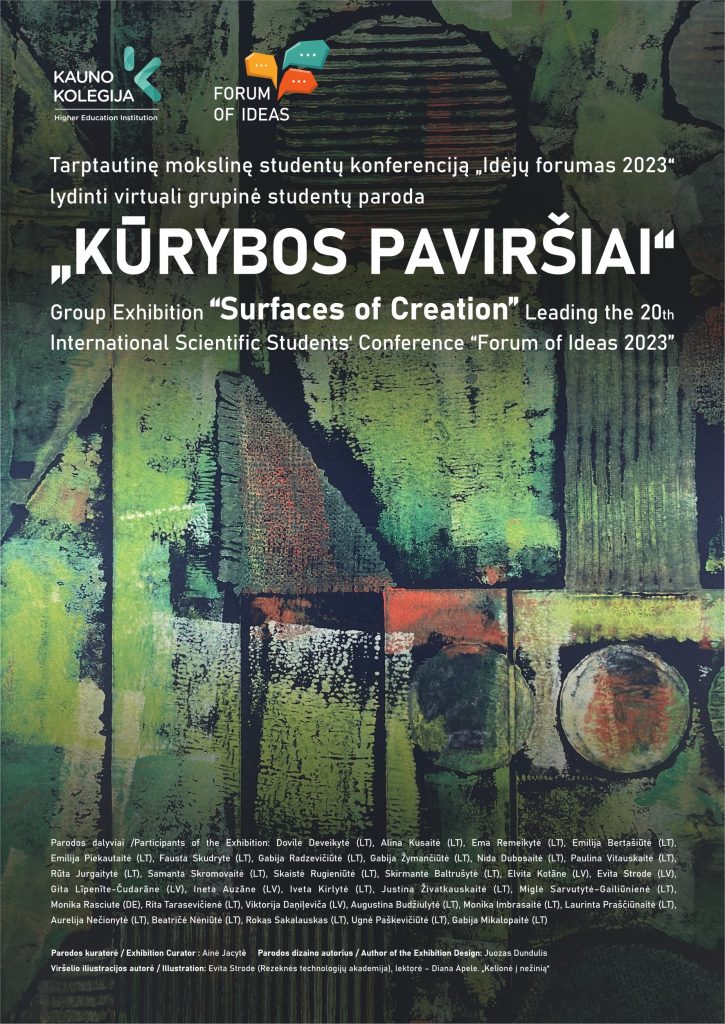 Virtual Group Exhibition Accompanying the 20th International Scientific Students' Conference "Forum of Ideas 2023"
"Surfaces of Creation"
---
Participants of the Exhibition: Dovilė Deveikytė (LT), Alina Kusaitė (LT), Ema Remeikytė (LT), Emilija Bertašiūtė (LT), Emilija Piekautaitė (LT), Fausta Skudrytė (LT), Gabija Radzevičiūtė (LT), Gabija Žymančiūtė (LT), Nida Dubosaitė (LT), Paulina Vitauskaitė (LT), Rūta Jurgaitytė (LT), Samanta Skromovaitė (LT), Skaistė Rugieniūtė (LT), Skirmantė Baltrušytė (LT), Elvita Kotāne (LV), Evita Strode (LV), Gita Līpenīte-Čudarāne (LV), Ineta Auzāne (LV), Iveta Kirlytė (LT), Justina Živatkauskaitė (LT), Miglė Sarvutytė–Gailiūnienė (LT), Monika Rasciute (DE), Rita Tarasevičienė (LT), Viktorija Daņiļeviča (LV), Augustina Budžiulytė (LT), Monika Imbrasaitė (LT), Laurinta Praščiūnaitė (LT), Aurelija Nečionytė (LT), Beatričė Nėniūtė (LT), Rokas Sakalauskas (LT), Ugnė Paškevičiūtė (LT), Gabija Mikalopaitė (LT)
Exhibition Curator Ainė Jacytė
Author of the Design of the Exhibition Juozas Dundulis
---
---
The surface of an artwork is the element the viewer notices first. It is like a membrane that covers the deeper layers of the artwork. Therefore, the search for a unique visual language created using the tools of artistic expression in the artworks of the students from Lithuania, Latvia, and Germany, the participants of the virtual group exhibition "Surfaces of Creation" accompanying the 20th International Scientific Students' Conference "Forum of Ideas 2023", is very important.
Young artists draw inspiration for their compelling visual language from different sources. Some of them observe the surroundings and attentively explore the subtle nuances of daily life, conveying them in their artworks through colour fusions, layers, and different textures (Elvita Kotāne, Evita Strode, Gita Līpenīte-Čudarāne, Viktorija Daņiļeviča, Ineta Auzāne, Miglė Sarvutytė-Gailiūnienė, Augustina Budžiulytė, Monika Imbrasaitė, Laurinta Praščiūnaitė, Aurelija Nečionytė, Beatričė Nėniūtė, Rokas Sakalauskas, Ugnė Paškevičiūtė, and Gabija Mikalopaitė). For others, inspiration is nature. In its diversity, they find the freedom to experiment and search for unconventional materials (Dovilė Deveikytė, Alina Kusaitė, Ema Remeikytė, Emilija Bertašiūtė, Emilija Piekautaitė, Fausta Skudrytė, Gabija Radzevičiūtė, Gabija Žymančiūtė, Nida Dubosaitė, Paulina Vitauskaitė, Rūta Jurgaitytė, Samanta Skromovaitė, Skaistė Rugieniūtė, and Skirmantė Baltrušytė). Architecture also inspires young artists. By choosing subtle materials, minimal colours and clear, strict geometric shapes, the students empower the interior of the buildings they are interested in because of their history and location for new activities (Iveta Kirlytė, Rita Tarasevičienė). Observing their surroundings and looking for different sources of inspiration, young artists enhance their imagination. Using classical means of expression, they create grotesque compositions (Justina Živatkauskaitė) or, on the contrary, sensitive, poetic artworks (Monika Rasciute).
The visual language becomes a tool for the viewer to perceive artworks and discover the possibilities of reading it in the drawings, graphic artworks, paintings, photographs, artworks of glass, ceramics and leather, fashion design items and design projects exhibited in the virtual exhibition.
---