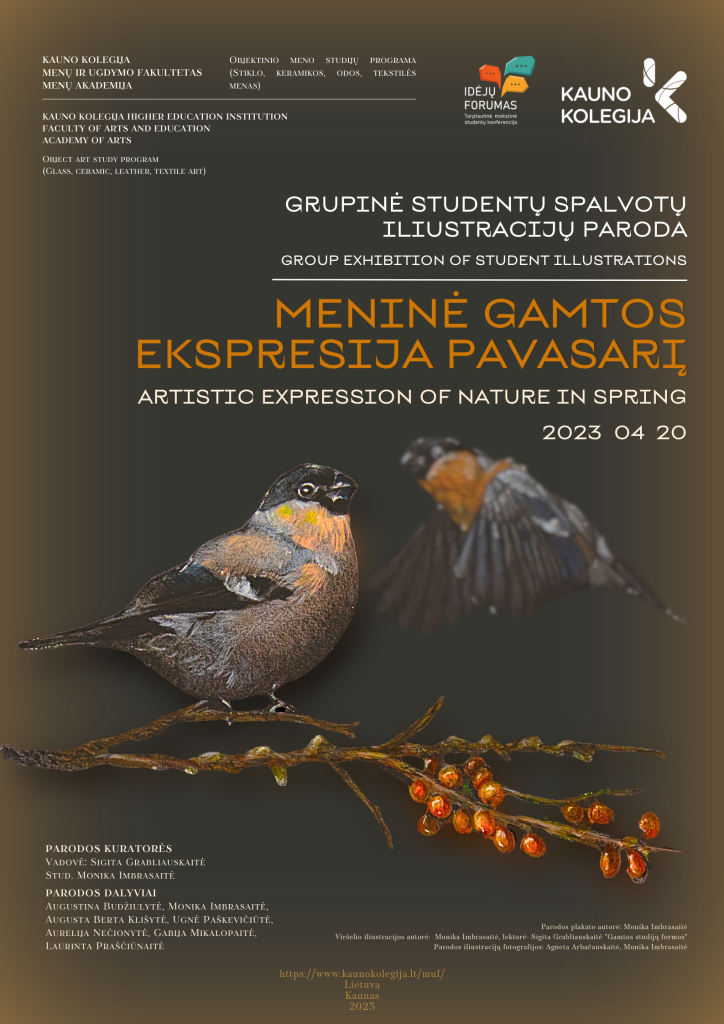 Group Exhibition of Students' of the Object Art Study Programme
"Artistic Expression of Nature in Spring"
---
The Author of the Text: Monika Imbrasaitė
Exhibition Curators: Monika Imbrasaitė, Sigita Grabliauskaitė
---
---
Studies of natural forms highlight the diverse and fascinating beauty of the flora and fauna of the natural world. The exhibition is graced by a breath-taking array of decorative illustrative compositions, each piece carefully crafted to embody the student's individual perception and interpretation of nature. These exceptional works – graphic drawings reveal the mastery of young artists to extract delicate details, nuanced textures and bright shades of nature. Whether depicting the gentle unfolding of a dandelion or the majestic presence of a gliding bird, each piece invites the viewer to inquire into the enchanting and ever-changing natural world. This spectacular exhibition invites to explore and appreciate the wonders and magic of the natural world, revealing the often overlooked yet remarkable features of flora and fauna.
The creativity and skill of the artists is evident in each piece of art, with the ability to interpret and apply the beauty of nature in new and interesting ways, leaving the viewer enthralled. The decorative and illustrative compositions on display are not only aesthetic, but also have a deeper meaning: each of them symbolizes the students' artistic excellence, as well as respect and admiration for the natural world. They provide a new perspective, turning the ordinary into the extraordinary and allowing the viewer to experience the majesty and delicacy of nature in innovative and unique ways. Exceptional beauty and diversity are revealed, and the transformative power of art to inspire, educate and deepen our perception of the world around us is emphasized.
The works of this exhibition not only demonstrate the student's curiosity and his attitude to the beauty of nature, but also highlight the skilful application of compositional elements. Using symmetry, asymmetry, dissymmetry, proportions, contrast, nuances, rhythm and harmony, the young artists created unique compositions in the further creative process, which they can later apply in glass, ceramic, leather, textile studies. These principles of composition are not only necessary for creating aesthetically pleasing works of art, but they also play an important role in the perception and interpretation of visual information. New plot compositions created during the internship of studies of natural forms testify to the creativity and ingenuity of artists to highlight the beauty of nature through their art. This is a unique opportunity to immerse yourself in the fascinating splendour of the natural world and glimpse the imagination and creative potential of the human mind.
---