GROUP EXHIBITION "CONVERSATION"
---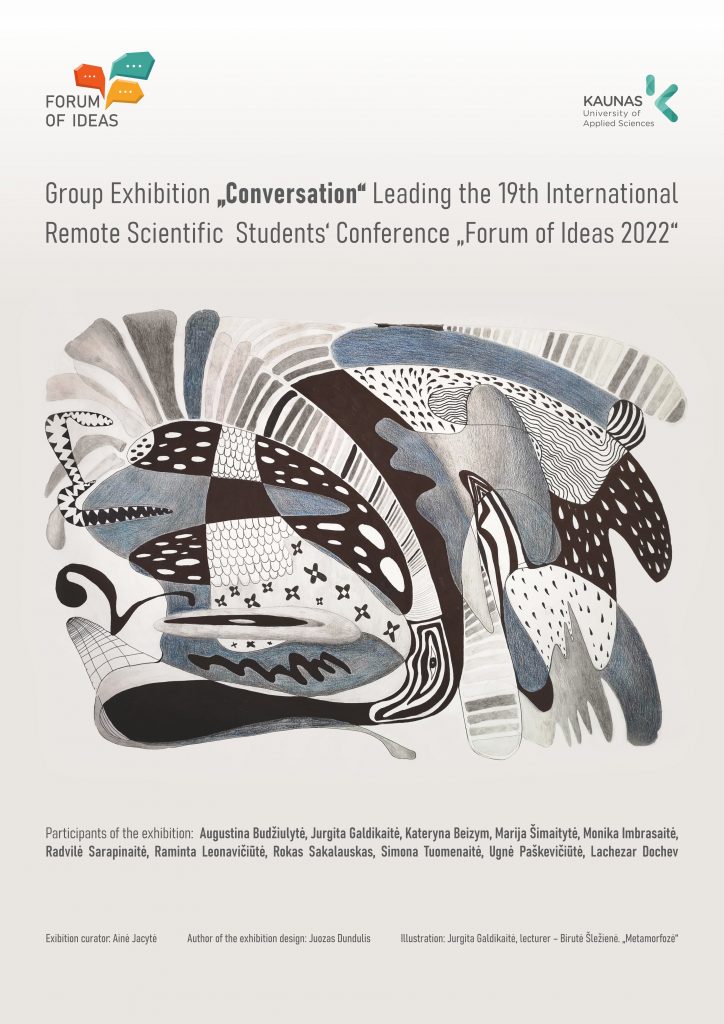 Group exhibition Conversation leading the traditional international remote scientific students' conference Forum of Ideas 2022, which is taking place for the 19th time this year and is organized by the Faculty of Arts and Education of Kaunas University of Applied Sciences, reveals versatility of language of art.
Young artists from Ukraine, Bulgaria and Lithuania in the language of art start conversations with the audience about the environment around them, paying attention to the smallest details. Giving them symbolic meanings students encourage to search and discover the stories they tell. Students fragment and transform motifs of reality into authentic compositions that reflect their inner worlds, experiences, also they convey a personal view of today's tensions, urging not to give up on fundamental values and humanity in their artworks.
Different motifs for creation, attention to details, interesting compositions, mastery of various techniques do not let to doubt that the path which young artists have chosen leads to the heights of art.
Participants of the exhibition: Augustina Budžiulytė, Jurgita Galdikaitė, Kateryna Beizym, Marija Šimaitytė, Monika Imbrasaitė, Radvilė Sarapinaitė, Raminta Leonavičiūtė, Rokas Sakalauskas, Simona Tuomenaitė, Ugnė Paškevičiūtė, Lachezar Dochev
Author of the exhibition design: Juozas Dundulis, Coordinator of the Design Study Program of the Academy of Arts